The close collaboration between Materials Science and Mathematics within the MIMESIS project has made another step forward after the successful conclusion of the three months training in Metallurgy of Steels and Metals and Process Metallurgy at the University of Oulu, Finland.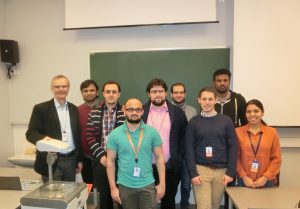 Guided by Prof. David Porter and the Materials Engineering and Production Technology research unit, the whole group of the Early Stage Researchers within the MIMESIS framework, has been exposed to the main aspects of metallurgy attending several courses offered by the local Faculty of Technology.
The physical aspects of the metallurgy of metals and steels have been considered in the first part of the training, together with further lectures about the process metallurgy.
The training offer has been complemented by several hours of lab activities, aimed at demonstrating the usage of a broad spectrum of tools, ranging from material testing to the microscopy lab.
A course in Scientific Research and Ethics was also offered to all the researchers.
The training in Finland lasted from November 2016 to January 2017, ending with a final seminar where each researcher contributed with a presentation about their own research topic from the perspective of the material science modeling.